What epidemic? "Numbers have been on the rise since June this year, but they really spiked up in August," said Dr Alison Roberts, of the Ministry of Health' ... Hiding behind the word "epidemic", as a scare tactic, Alison Roberts continues: "We have been expecting an epidemic around now. New Zealand has a whooping cough epidemic every four to five years, and the last one started in 1999." Really? has Dr Roberts read this from the ESR? which has a graph showing this: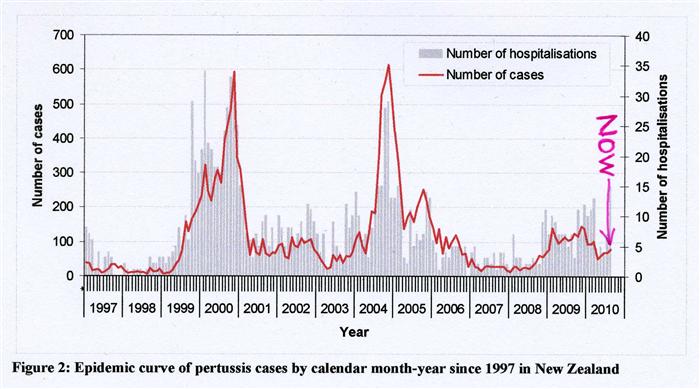 If so many extra vaccine doses have been added since 1999, and New Zealand has the highest pertussis vaccination rate for pertussis ever, why do we keep having these epidemics?
So how many of these children were vaccinated? Only slightly more than half were "confirmed" cases, and the rest were "assumed":
Of the 353 confirmed cases reported since 26 December 2009, 240 (68.0%) had a known vaccination status (Table 4). Of these 240 cases, 127 were not vaccinated including seven cases aged less than six weeks and therefore not eligible for vaccination. Twenty-eight cases had received one dose of vaccine, eight cases had received two doses, 27 cases had received three doses, eight cases had received four doses, and 12 cases reported having completed their pertussis vaccination. A further 30 cases reported being vaccinated but no dose information was available.
Most of the vaccinated children were appropriately vaccinated for their age, and the ones who only had one shot, might have had a reaction to that shot, and their parents wouldn't have wanted more.
Out of the 679 cases since 26 December 2009, seventy were hospitalized, and there were no deaths.
Neither is there mention of sequelae, and you can bet if there had been, the papers would have been full of them. Notably, the immunisation status of those hospitalised, was not discussed.
Even though however-many-DPT-doses haven't made a jack bit of difference to the whooping cough incidence graphs since vaccination started with the DPT in 1961, why does the media fall for this mental manipulation? Because they are ignorant.
This is nothing new, as this 1983 medical article on pertussis, called "Media-induced Maladies" shows.
Actually it's a world-wide plan/phenomena. Take this article here: ALSO dated 22 September (funny that...) which is worth putting in full. Note the sentence in red.
September 22, 2010
Indiana Whooping cough cases skyrocket.
Rate of Vigo residents lacking immunization among state's highest
INDIANAPOLIS — State health officials say Indiana is on track for the highest number of pertussis infections since 1986, mirroring a national trend in the escalation of the highly contagious respiratory disease better known as whooping cough.

Health experts say the rise in reported cases may be due in part to better diagnostic testing. But they also point to the number of children who may not have been vaccinated against the disease, as well as the number of teenagers and adults who've failed to get the booster shots designed to keep their immunity from waning.

"Infants are the most vulnerable and they can die from the disease," said Dr. John Christenson, director of pediatric infectious disease at Riley Hospital for Children in Indianapolis. "But teenagers and adults serve as the vectors for the disease, transmitting it to infants who have no immunity."

As of mid-September, the number of whooping cough cases reported to the Indiana State Department of Health for 2010 had surpassed 390, close to the total number for 2009.

In Vigo County, the state says there have been no reported cases of whooping cough so far this year. Less than five cases total were reported in 2008 and 2009, said Megan Bland, Vigo County Health Department spokeswoman.

Epidemiologist Angie Cierzniewski of the Indiana State Department of Health said health experts are fighting the misconception that whooping cough had been nearly eradicated.

"People think it went away with polio and measles," Cierzniewski said.

It came close, according to the Centers for Disease Control and Prevention. Before the first pertussis vaccine was introduced in the 1940s, whooping cough infected more than 160,000 Americans a year and killed about 5,000.

By 1976, the number of cases nationwide had dropped to 1,010 a year, because of what experts say was the widespread use of the vaccine. But the numbers have increased tenfold since. In California alone, there have been more than 4,000 cases reported this year, including nine infants who've died – most of them after being misdiagnosed initially.

California public health officials cite concerns similar to those voiced by Indiana public health officials, including difficulty in tracking who's been immunized.

Indiana has a state law that requires students starting school to provide proof that they are up-to-date on their immunizations for whooping cough, as well as for polio, diphtheria, tetanus, measles, mumps, rubella, hepatitis B and chickenpox (or show evidence they've had chickenpox).

A new state law also requires vaccinations against meningitis, a second chickenpox shot and an updated shot inoculating children against whooping cough, diphtheria and tetanus. Exemptions are granted only for religious or medical reasons.

But during the 2009-10 school year, there were some counties in Indiana where more than 20 percent of kindergarten students had no records of their immunizations, according to the state health department.

"It's a state law, but it's really up to the school districts to enforce it," Cierzniewski said. "There are some schools that have so many students without immunization records that if they enforced the law, they wouldn't be able to have school – there wouldn't enough students to attend."

That's a scenario for trouble, warned Christenson. "A lot of epidemics start when someone with the disease comes into a community with an under-immunized population."
_________________
With regard to the last sentence in green. Being an information junkie, I have a huge collection of newspaper articles about kids with pertussis dating from the late 70's, and... most of them are vaccinated children. One more recent prominent one was a 10 month, fully vaccinated daughter of a doctor at Middlemore hospital. Which reminds me of this medical article in which in 1979, while defending his article the author replied with a situation which exactly mimics THIS country:
I did discover that the only seriously ill infants were too young to have been vaccinated in any case; and that
these children were threatened by an outbreak of which the onset and initial spread were entirely among immunised children.
Nothing has changed in the world of expedient misinformation. Whooping cough is primarily spread by vaccinated children with undiagnosed infections, to their unvaccinated siblings, or other children in daycare or school.
The brown coloured paragraph is typical misinformation, when the truth is, that because of "observer bias" and the assumption that all vaccinated children can never get pertussis, pertussis was constantly diagnosed as something else, until the truth gradually dawned on everyone, and that TRUTH then permeated the medical literature. Ironically, the guru of pertussis, Dr James Cherry, was the first to twig that the problem was blinkered doctors, not absense of pertussis!
Why did that truth gradually permeate the medical literature? The whole truth and nothing but, is never told in the medical literature about anything... but a relatively probable scenario might go something like this bad dream I had in my imagination.... Big Pharma said, "Oh goodee, just give kids, adolescents. parents, caregivers, grannies and aunts a whole lot of shots whenever a baby pops out! We'll call it 'cocooning'.... more is always better.... " (Thinks to self... "This way we will have no recession"). Meanwhile doctors said, "Oh, well,.. but how do we explain that we were a bunch of idiots and couldn't see beyond the end of our noses?" to which pharma responded, "Oh don't bother. No-one will ever notice, after all, you are God and the sheeple will always believe you."
In order to convince the public that pertussis boosters from cradle to grave is a good idea, you have to have time to concoct some plausible sounding excuses. As well as allow enough time to pass, to get away with absolute porkies.
But the mainstream media will never wake up to the fact that media induced maladies exist, because they ASSUME that doctors tell the truth, and they can't be botheredstudying the medical literature (or wimp out by saying they don't have the time).
Even if they did all the above, I wonder who would in mainstream media would have the balls to challenge people like Dr Alison Roberts, and demand truth and accountability?
On past experience, the answer would be "none".